Recently, my lovely cousin decided to go her entrepreneurial way, and start her own business!  She asked me to help with website, logo and social media branding.
Sugar & Salt, is the name and cupcake baking is her game…not to mention, if you are looking for a unique and satisfying treat, her cupcakes are UNREAL!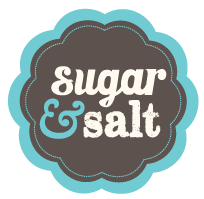 Currently the website is being built, but her logo and branding is complete and her facebook page is up and running. Take a look, and let me know what you think?